This is our tiny subjective Poland's guide. Here are some places we've visited and loved plus one we are willing to see. This is not "the best of" list so please don't ask why there isn't some beautiful spot included. They're just places where we've had a good time and we think there's a chance you could like them too. Enjoy!
1. Trzęsacz – a church claimed by the sea
At the time this church was built it was located almost 2 kilometres from the sea coast. It was more than 500 years ago (probably in late 14th century) and since then the sea was consuming the land in church's direction at a slow but steady pace. In 1901 a first fragment of the church's wall collapsed. Now only a small part of a south wall remains standing over the cliff.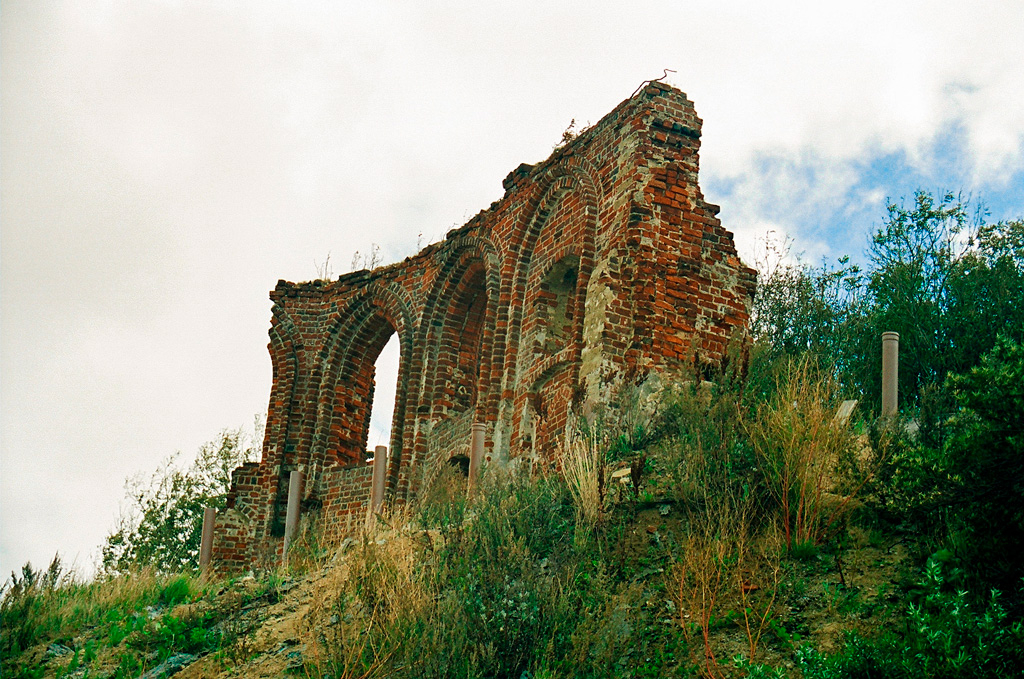 Ruins of the church in Trzęsacz on Wikipedia.
2. Kaszuby – Nature's All Inclusive ;)
A beautiful land where various nature's treats can be found: fields, meadows, forests, lakes, rivers, streams and hills. We recommend:
Ethnographic open-air museum in Wdzydze,
Aqueduct (rivers' crossing) in Fojutowo,
Regional promotional centre with upturned house and a longest plank in the world, not mentioning small local brewery Kaszubska Korona and good food (including a really great traditional bread sold just outside the entrance to the complex) in Szymbark
Wieżyca hill with tower with a view over vast surrounding forests and lakes
Kościerzyna with accordion museum and open-air trains museum
Hydroelectric power plant in Soszyca
Our tried and recommended accommodation: Osada Grzybowski Młyn hotel – comfortable and clean rooms, helpful staff and excellent food.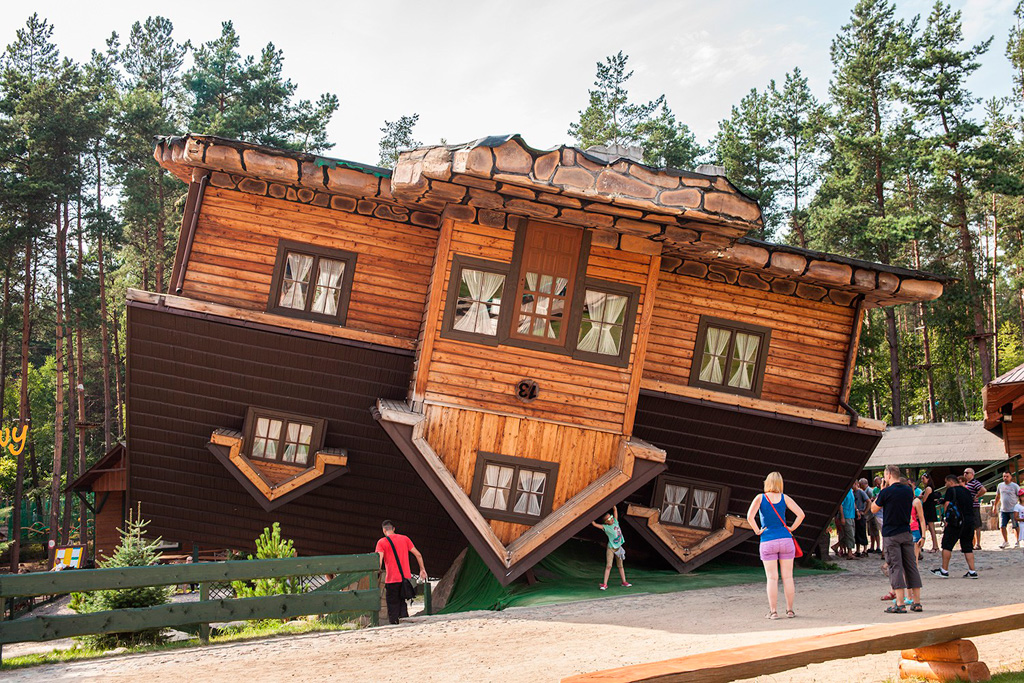 3. Gdańsk – hanseatic sea gate
Gdańsk was a member of the Hanseatic League. Recognized as a symbolic place of the outbreak of World War II and an end to Communist rule across Central Europe. We recommend walking through Main City where numerous architectural monuments can be found.
Our tried and recommended accommodation: Mieszkania Wakacyjne in Gdynia.
More about Gdańsk on Wikipedia.
4. Mazury – sail or swim
Poland's Great Lakes region. Woods and lakes. Fish and mushrooms :) Rent a sailing boat and enjoy the ride!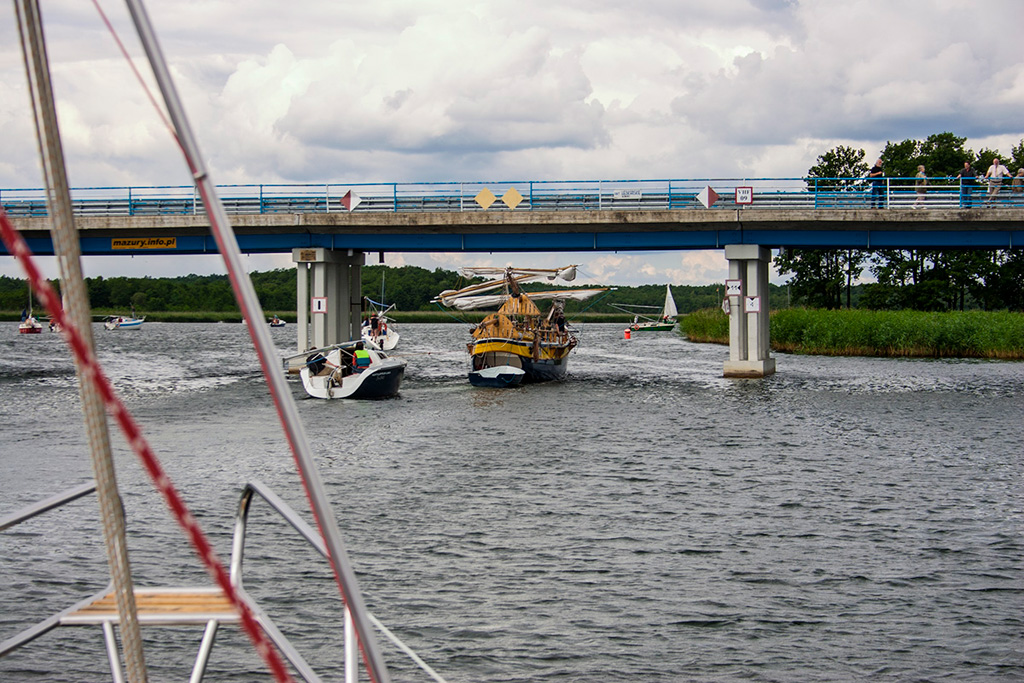 5. Borne Sulinowo – reclaimed ex-Soviet military area
A town in the woods. A former Soviet garrison, in the years of 1945-1992 was a closed area and wasn't even on Polish official maps. Now it's being gradually renovated and populated but still acts as an interesting place for military and history enthusiasts. Moreover there are beautiful moors on the site of the previous military training area.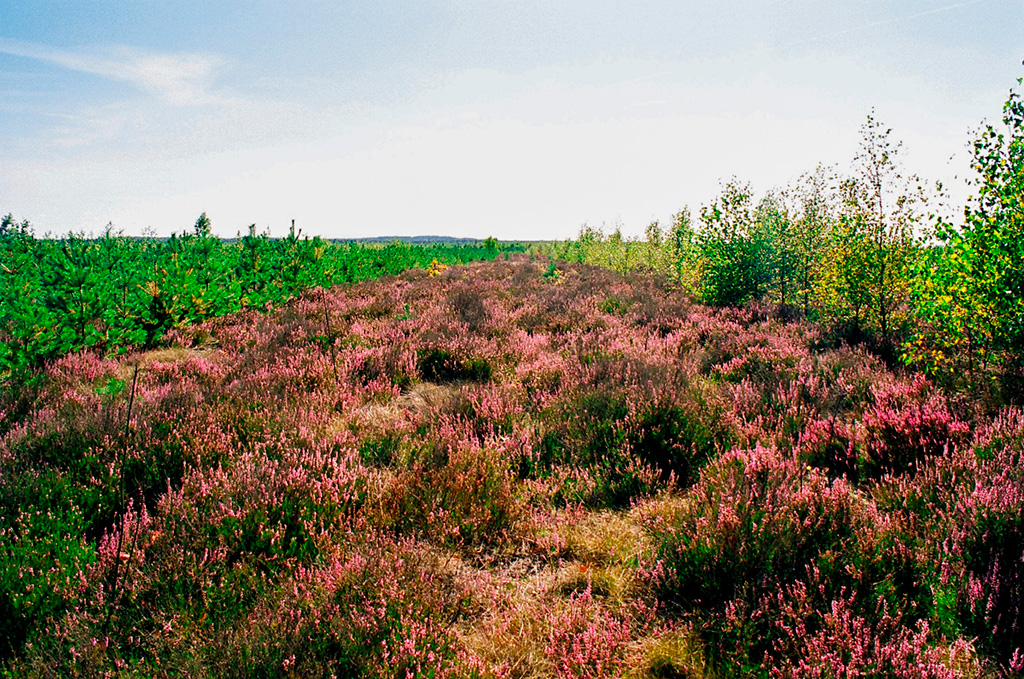 6. Międzyrzecz Fortification Region – passages into the dark
World War II Germany's fortified military defence line between the Oder and Warta rivers. It was built by the Germans in 1934–38. Total length of underground passages is 35 km. The central part acts as a largest bat refugee in the world. Parts of MRU are open for visitors.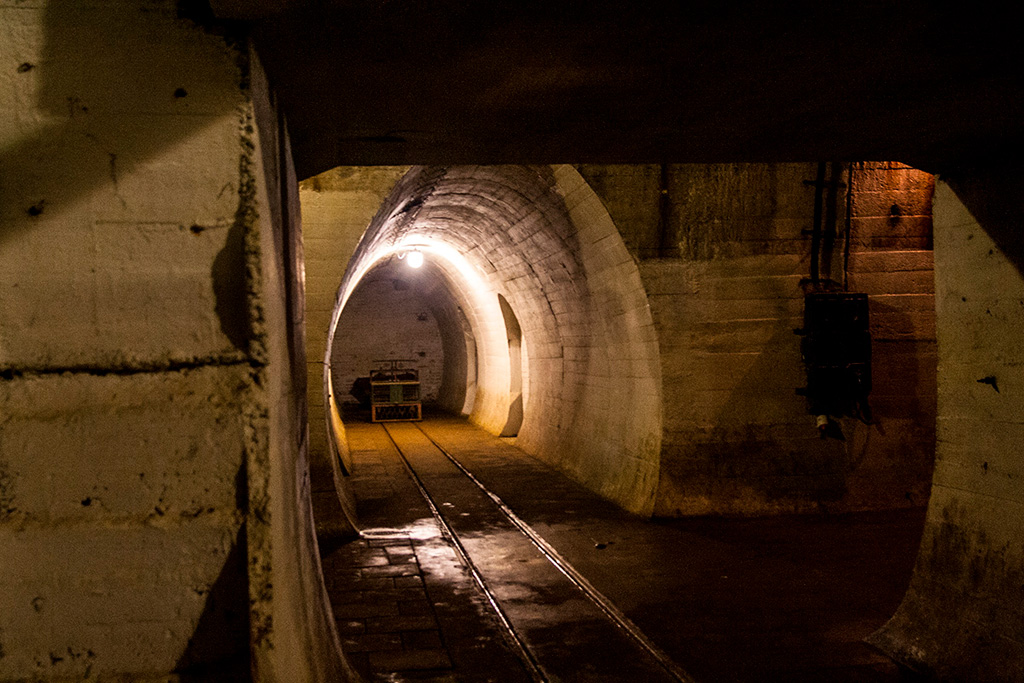 Międzyrzecki Rejon Umocniony on Wikipedia.
7. Jawor, Church of Peace – a wooden marvel

On UNESCO World Heritage List. Wooden evangelical church built after the peace ending Thirty Years' War in mid 17th century and due to that time's peculiar constraints had to be built using only volatile materials such as wood, loam and stray. It's no wonder that the building is not in it's best possible shape nonetheless is a must-see. It's lofty beautiful baroque interior is decorated with several biblical and landmark's paintings.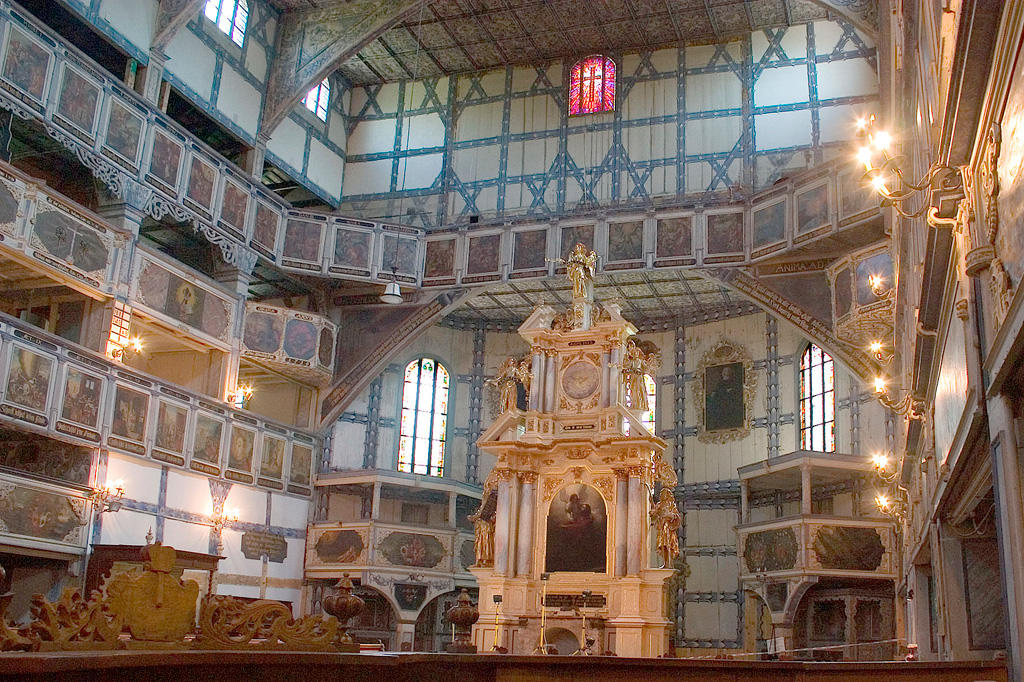 8. Kowary – u

ranium

ore mine
Underground tourist route in unused uranium ore mine (radiation safe ;). The route is 1200 metres long and has a form of a mine's museum.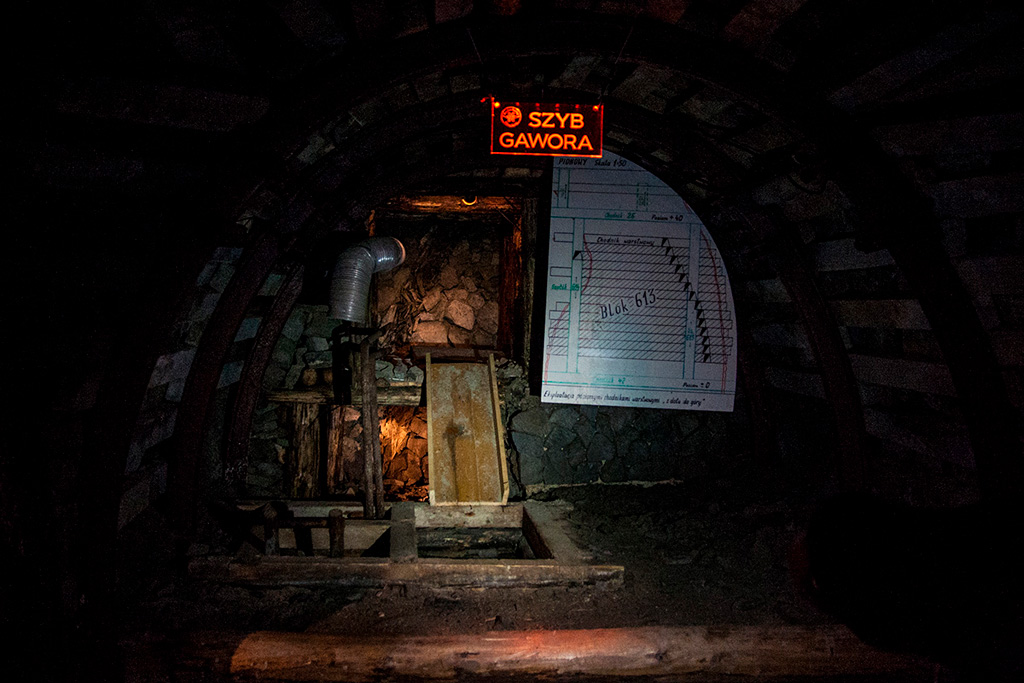 9. Książ Castle
Quite an old castle built in 13th century. Has a gloomy World War II history, was a detachment of German concentration camp Groß-Rosen. Under the castle there were tunnels and shelter were excavated and allegedly a munitions factory was to be built there. Książ castle was a part of German underground complex "Riese". Severely destroyed during the war and renovated afterwards now is open for visitors.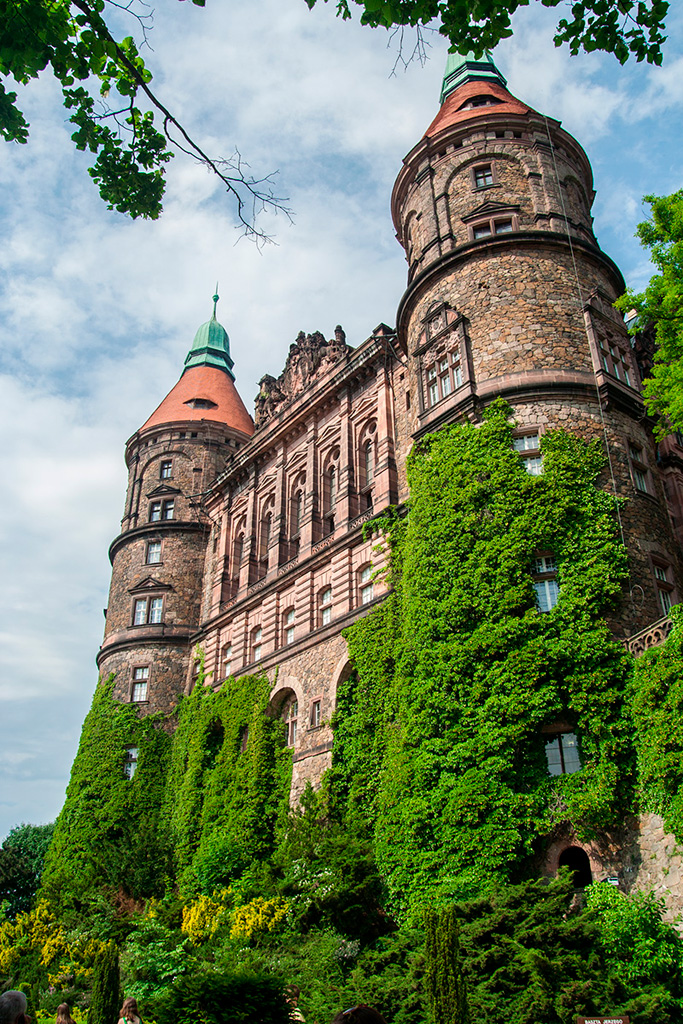 Zamek Książ on Wikipedia.
10. Walim – mysterious wartime

tunnels
Part of "Riese" (the "giant") Nazi Germany's military complex. Underground passages are still being explored and their true purpose is yet to be determined. Legend says that Germans during their evacuation left a hidden treasure somewhere down the tunnels.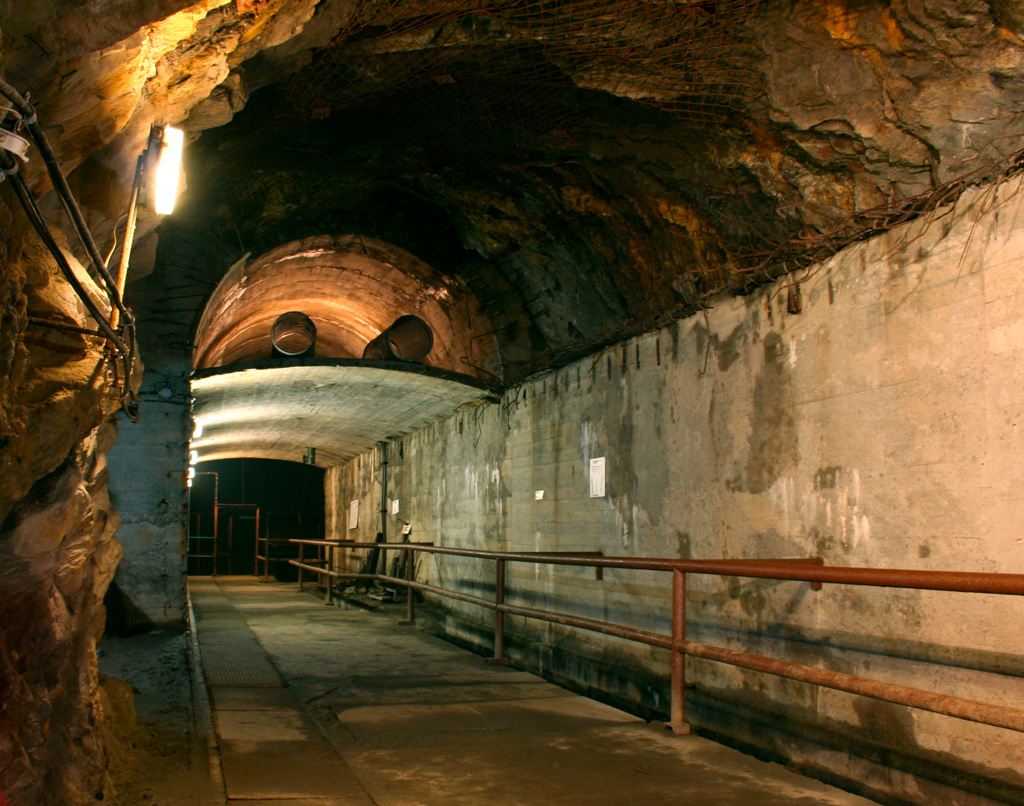 11. Malbork Castle – large Teutonic fortress
On UNESCO World Heritage List. A classic brick built medieval fortress erected by knights of Teutonic Order in 15th century. This UNESCO heritage site is really worth visiting.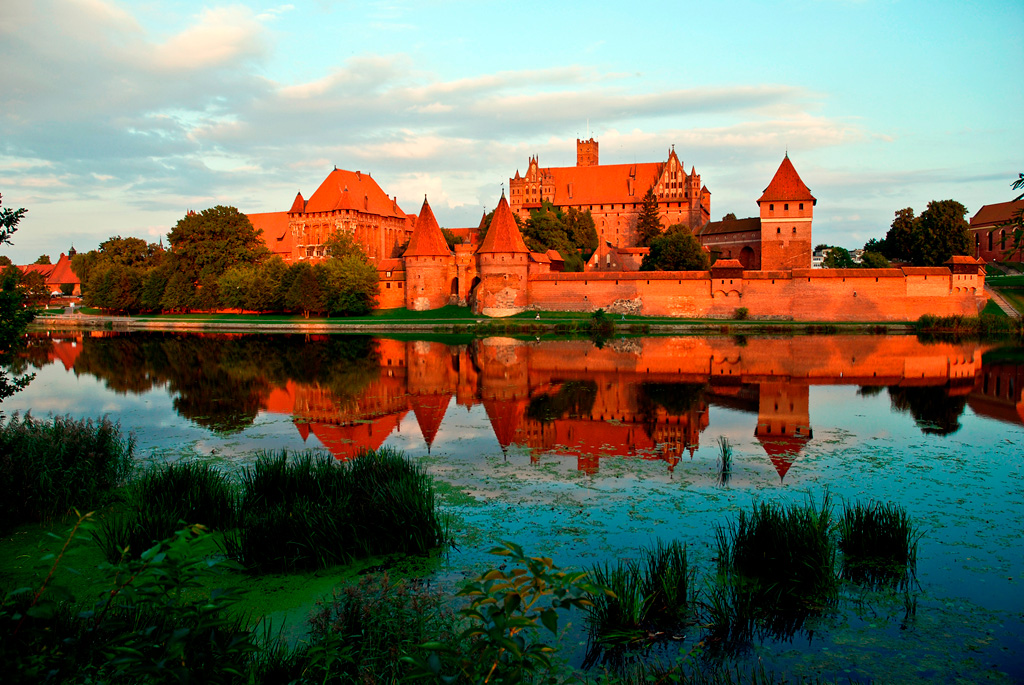 12. Łódź, Księży Młyn – a view to 19th century Promised Land
19th century industrial era "city within a city". Textile factories, worker's houses, palaces, power plant, hospital and many more. Through the years partially deteriorated to semi-abandoned state. Recently some of them were revitalised while others still are under reconstruction or awaiting one. A runner for International EXPO 2023 exhibition with "city revitalisation" theme.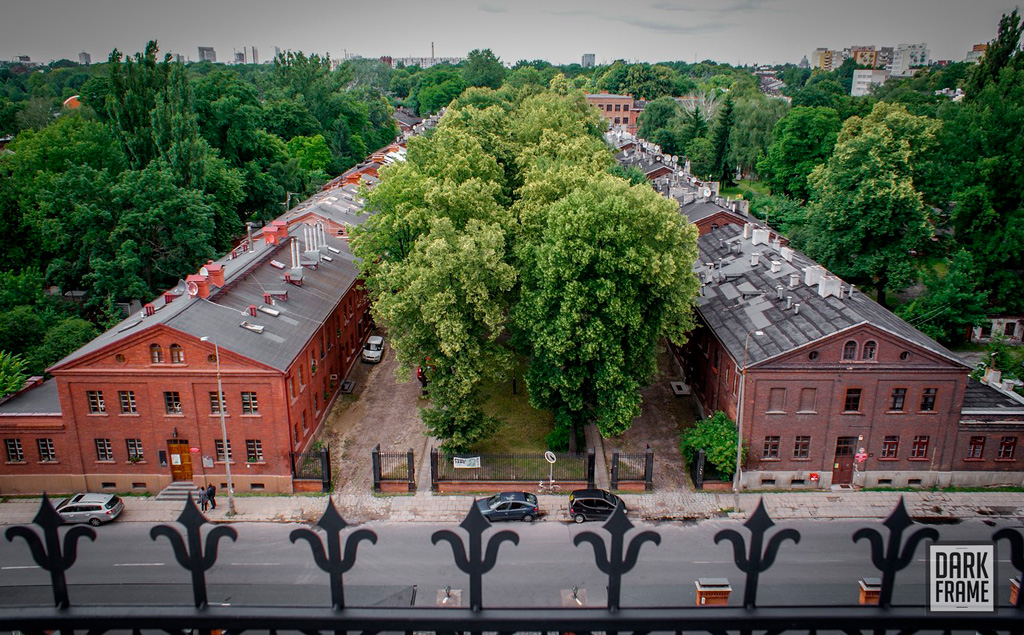 13. Kazimierz Dolny – rest among hills
Small town on the banks of Vistula river is one of favourite getaway places for Warsaw citizens. Lovely old square with a vintage well. Ideal place for walks and trying polish cuisine.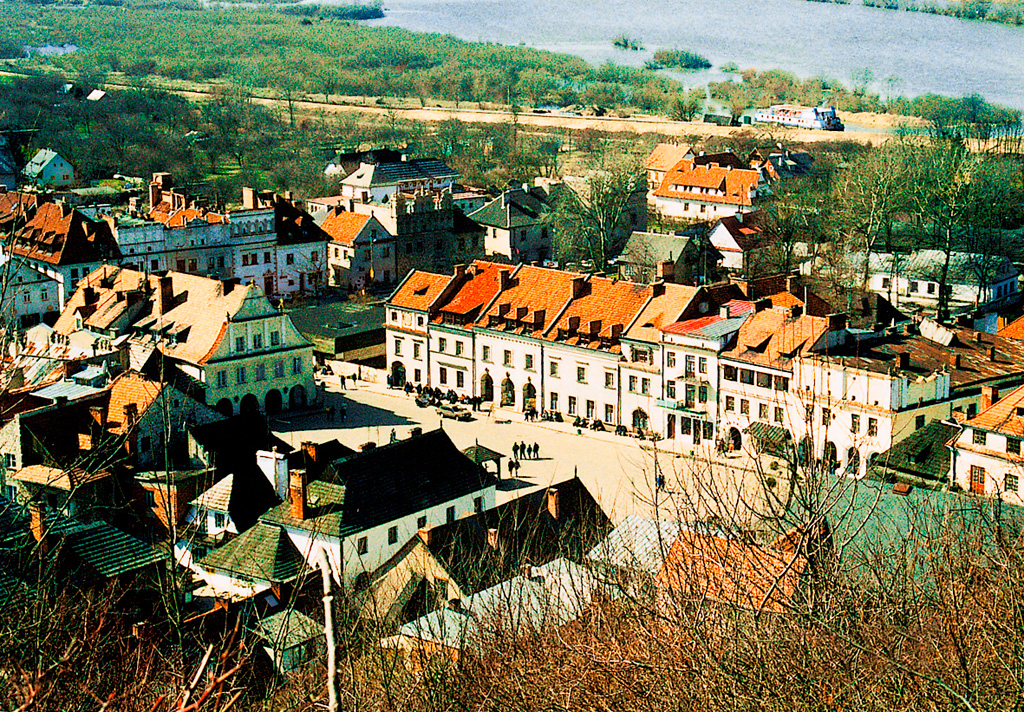 14. Sandomierz, old town
Centuries old city beautifully located on the Vistula river bank with its charming old town located on a hill. Colourful houses surround the city hall on the main square where you can find underground tourist route and of course good restaurants. Ideal place for a rest.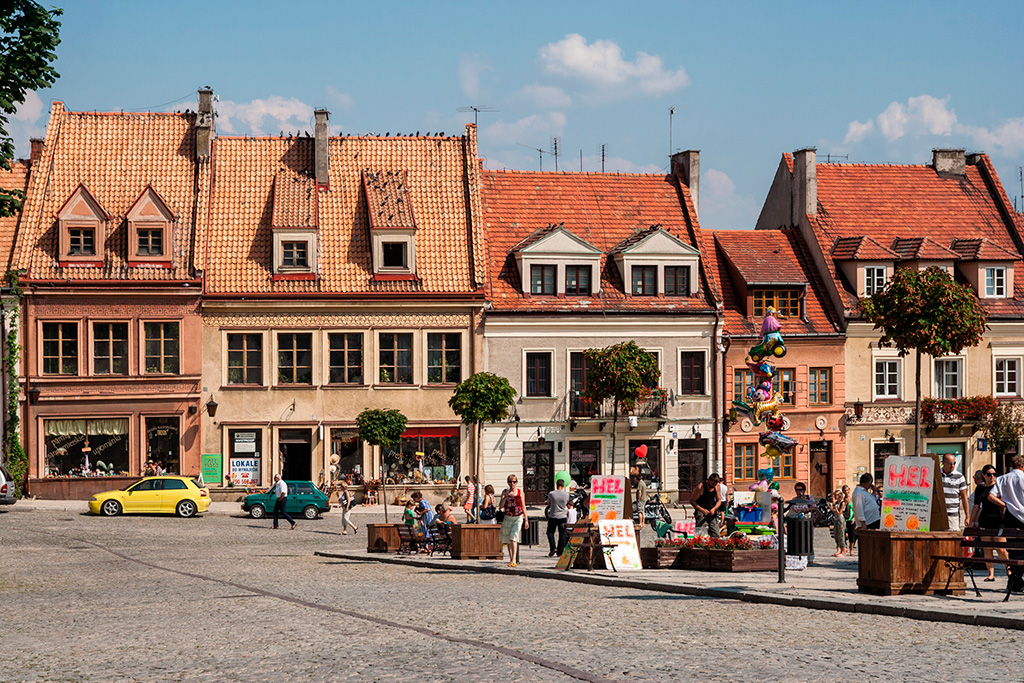 15. Roztocze – beautiful nature
Range of hills forming Roztocze National Park. Nature at its best with beautiful streams flowing through forests and surrounding hills. Ideal for active rest, popular among bikers and hikers. Among towns worth visiting is Zwierzyniec (good starting point) and Szczebrzeszyn with a statue of the cricket (known from famous Polish tongue-twister). You cannot miss Zamość – the city called the pearl of Polish Renaissance – with its main square and town hall (on UNESCO World Heritage List).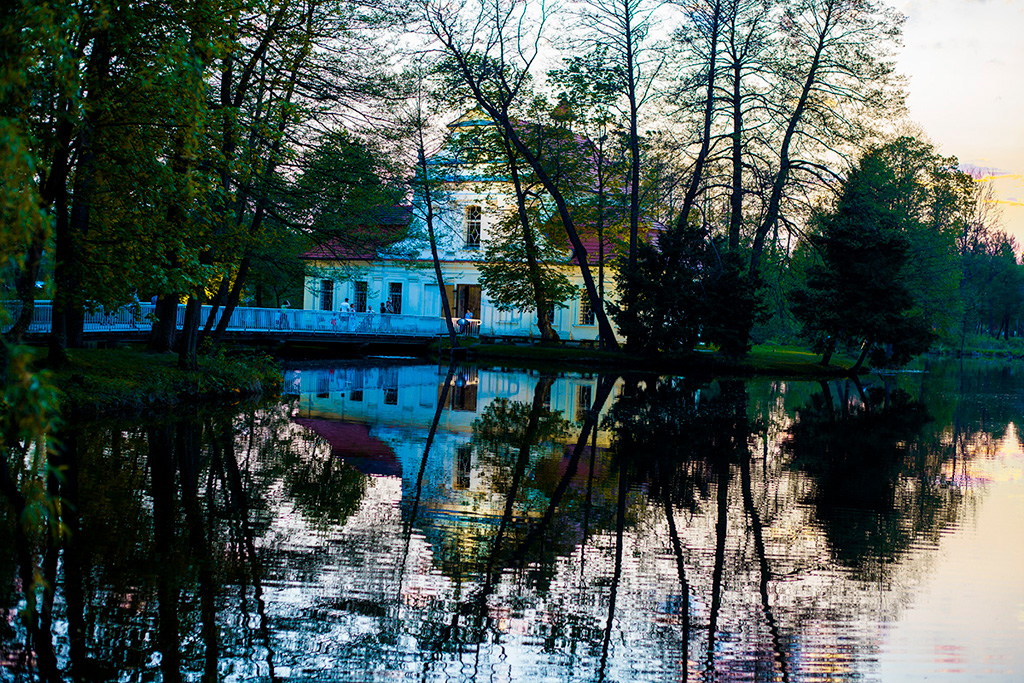 16. Wieliczka Salt Mine
On UNESCO World Heritage List. Marvellous deep underground tourist route in decommissioned salt mine. Consists of 20 chambers cut in salt and stone, statues carved in salt, large wooden staircases and even an underground lake. The route runs for about 3 kilometres. A real must-see, especially if you want to take a peek at what Tolkien's Moria might look like.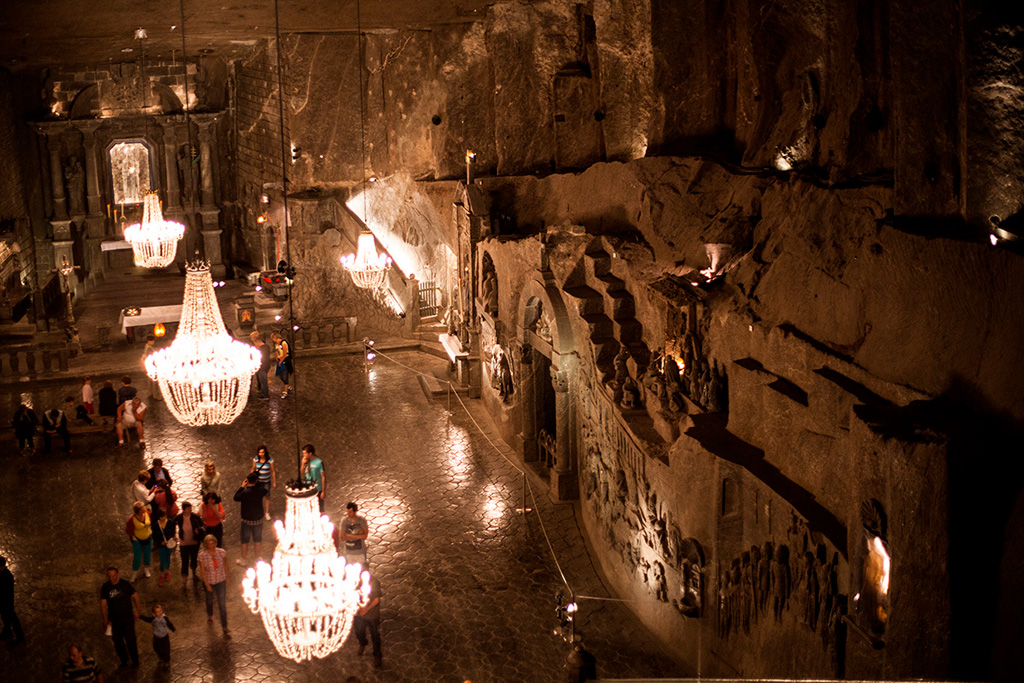 Wieliczka on Wikipedia.
17. Kanał Ostródzko-Elbląski – a canal like no other
And last but not least! This remarkable hydro engineering achievement is a canal with over 100 metres water level differences to overcome. This is done by a system of locks and special marine railways (tracks on ground running on slides between adjacent sections of the canal). Canal was recently renovated and is open for navigation. There are organized small ship excursions with route up to 82 kilometres in length. We plan to go there ourselves soon.